I love apples. Why you ask, because their good for us! These plump little fruits are a good source of vitamin C and fiber, and have been linked to reduced risk of cardiovascular disease, stroke, certain cancers, and asthma.
Yummy Options
1. Apple Sauce/Butter
Nothing beats the taste of natural homemade applesauce, and it's so easy to make! Applesauce is delicious either hot or chilled. It pairs well with pork chops for savory dishes, it's terrific with cottage cheese as a snack or light lunch, and it's great with vanilla ice cream or yogurt. Let's no forget my favorite, classic peanut butter with applesauce/butter sandwich.
2. Bake em'
Bake them in the oven on their own. For a healthy snack, cut the apple in half, lay on baking sheet. Sprinkle brown sugar and cinnamon. Bake until golden brown.
3. Add to Oatmeal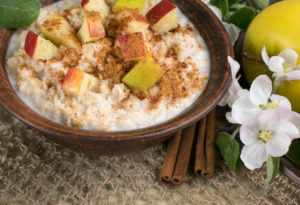 For a simple breakfast, add oats, water, apples, and cinnamon to a sauce pot. In about 5 minutes you'll be enjoy a healthy breakfast that tastes like apple pie!
4. Add to Pancakes
Dice up an apple and throw into you pancake mix. The same can be done with bananas and blueberries!
5. Apple Muffins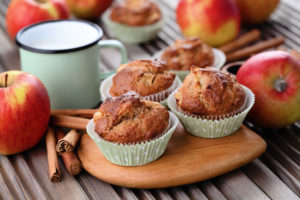 Whether you want a savory breakfast or a sweet midnight snack, apple muffins are just what your fall season needs. Make a batch and watch them fly off the tray!
6. Add to Chicken Salad
Throw apples into chicken salad. Yes you heard right. I love this recipe. It's my lunch go to. All you need is leftover rotisserie chicken, greek yogurt, mayonnaise, a spoonful of Ceasar dressing for flavor, celery, apples, raisins,  and walnuts (optional). Mix together and leave overnight for the flavors to mingle.
7. Apple Chips
This healthy snack everyone loves. Do away high high calorie chips and pack this in your lunch box instead.
9. Mini Apple Pies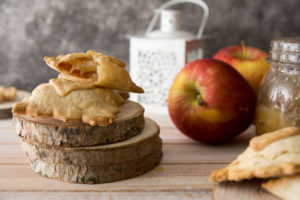 Mini apple pies are easy to put together. Roll out ready pie crust and cut into square or circles (your preference) about 2 inches. Fill with your homemade apple sauce and pinch edges together with a fork. Make a small slice on the top to avoid your mini pie from puffing up. Bake at 375 Fahrenheit for 15 minutes or until golden brown. Perfect snack.
9. Apples Cider
This cozy beverage is perfect for cold winter nights. Apple Cider is not only delicious, but has many health benefits. Snuggle up with this comfort drink with a good book.
10. Apple Smoothie
Great way to use up browning apples. Blend up a delicious smoothie. Try pairing up a banana, peanut butter and cinnamon. Add almond milk, blend and enjoy.
How do you like your apples?
Sign up for more.